Which Wheels Are Right For Your Fleet?
May 6, 2021 - 10:23:01 am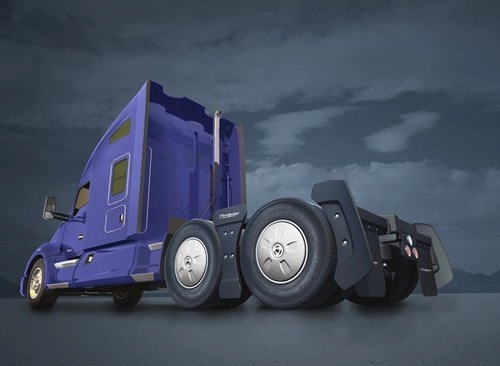 Once upon a time, truck maintenance managers didn't put much thought into the wheels on their trucks. These days, the choice of wheels is more complicated. Wheels need to be as light as possible to minimize weight and maximize fuel economy. Uptime is critical, so they need to be as maintenance-free as possible. On top of that, fleets need to think about how wheel choice will be affected by new technologies such as "smart" wheel hubs and braking systems, as well as tire pressure monitoring and inflation systems.
Jamie Hagen is the chief executive officer and chief driver for Hell Bent Xpress, a small fleet running bulk haulers and a new dry van fleet out of Aberdeen, South Dakota. He's a "social media influencer" who shares his tests of the latest technology and his quest for always-higher fuel economy to a large following.
"I spec aluminum wheels for everything on my bulk haulers and run them with super singles on top," Hagen says. "I want those rigs to be as light as possible for fuel economy. But recently, I've been buying new dry vans, and they're coming from the factory with steel wheels on them. I've been buying aluminum wheels here and there, and will eventually put them on the dry vans. In this case, it's as much about maintenance as it is weight. Up here in South Dakota, those trailers can sit idle for long months in the winter and they go forever between wash bays. So, I know that sooner or later they're going to start to rust out on me. In fact, I've already got rust on some of the new trailer wheels – and they're only about six months old."
Hagen says aluminum wheels don't seem to make much of a difference in his fuel economy numbers, although he's never done a serious comparative study between the two.
"Mainly this is based on application. My bulk haulers are always maxed out at 80,000 pounds," he explains. "Whereas my dry van trucks average 70,000 pounds per run. So, as far as I can tell, the difference in vehicle weight really negates any advantage I'd see in terms of fuel economy."
Lighter wheels, better fuel economy?
The North American Council for Freight Efficiency says lightweighting technologies save 0.5% to 0.6% of fuel per 1,000 pounds of weight reduction, notes Mike Palladino, director of sales and product management at Accuride.
"We can use this formula to get an idea of what going from Accuride's lightest steel wheel of 65 pounds down to our 38-pound aluminum wheel would save a single truck," Palladino says. "According to our calculations, that spec change would cut 450 pounds off the truck, which translates into a fuel economy increase of 0.2%, assuming the total vehicle weight decreases."
For bulk haulers like Hagen who often replace that weight saved with more payload, that equation isn't valid. For those fleets, the extra payload capacity drives wheel choices.
"Weight reduction has been an ever-present goal for truck wheel manufacturers," says Amy Gross, marketing manager of Alcoa Wheels. "We continue to innovate with manufacturing processes and metal technology, finding new opportunities for weight reduction without sacrificing performance and durability."
Gross says aluminum wheels have come a long way over the past 75 years, with some models shedding up to 14 pounds per wheel. She cites the Alcoa ULT39x, in the 22.5-by-8.25-inch style so common in trucking, which dropped to 39 pounds in 2020 – compared to 53 pounds in 1986. The load rating has increased from 7,300 pounds to 7,400 pounds. "In essence," she says, "the wheel got lighter and stronger at the same time."
Beyond the metal choice
Wheels are evolving in other ways, too. Hagen recently spotted something he's interested in learning more about.
"I saw a story that Alcoa has come out with a new, two-air-stem wheel, specifically designed for TPMS," he says. Tire pressure monitoring systems are standard on all his trucks and trailers. But the valve stem cap is a critical component that physically connects the tire to the system.
"You can take a TPMS cap off easily enough and put air in a tire, and put it back on again," he explains. "But I've already had a couple of drivers lose the caps. Once the cap is gone, the TPMS is useless. So, I love the idea of having two separate valve stems – one dedicated to the TPMS, and the other dedicated to inflating or deflating the tire."
Alcoa's Gross is happy to confirm.
"Dual-valve Alcoa wheels offer a second valve stem to attach valve-mounted tire pressure monitors, where they can be left alone and the other valve can be used for airing the tire, limiting the chance for sensor damage."
She also cites a new and improved hub bore technology on Alcoa wheels. A unique contour limits the contact area of the wheel to the hub where corrosion is likely to build up and cause the wheel to be hard to remove.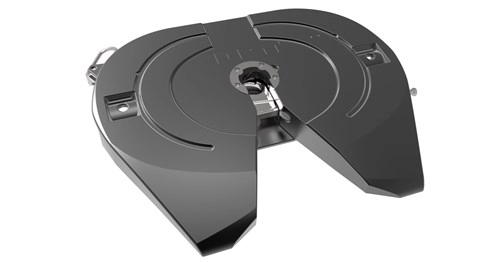 Costs to consider
According to Alcoa, more than 70% of new Class 8 trucks are being spec'd with aluminum wheels from the factory.
"Gradually over the past few decades, fleets and OEMs have come to realize the benefit of aluminum wheels versus steel to aid in lightweighting, maintenance improvements and aesthetics," Gross says. "The aluminum wheel penetration has been increasing steadily."
Matt Brest, senior sales engineer of commercial vehicle and military wheels for Maxion, says the market share between steel and aluminum is very different depending on the class of vehicle and what part of the vehicle the wheel is on.
"It also depends on the application," he says. "For Class 8 tractors, it's roughly 80% aluminum and 20% steel. However, on trailers, the numbers flip to 80% steel and 20% aluminum. This is for the market as a whole. However, there are segments like bulk haulers, where every piece of the vehicle uses as much aluminum as possible because the payback is so great. For medium-duty trucks like Class 4-6, steel is still the predominant solution" at about 90%.
The steel-vs.-aluminum question is common enough that Alcoa Wheels developed a program to help fleets decide which option is best for their operations.
"To prove the value of aluminum versus steel wheels, we often provide a fleet with a set of wheels to test, in addition to providing an ROI model," Gross says. Fleets are asked to benchmark and evaluate the gains in tire life, torque retention, corrosion reduction, image advancement, ride improvement and ease of maintenance.
Accuride's Palladino notes that both steel wheels and aluminum wheels will work for the same vocations.
"Whether or not a fleet will decide to spec steel wheels or aluminum wheels will be based upon their own opinions, and what is important to them."
He says this includes issues such as lightweighting, financial impact, aesthetics, and driver preference. For those reasons, he adds, Accuride is the only wheel manufacturer in North America that supplies both steel and aluminum wheels for all vocations.
"Some fleets value weight savings the most," Palladino says. "Others prefer the cost of a steel wheel. Accuride manufactures the lightest aluminum wheel in the market at 38 pounds and the lightest steel wheel in the market at 65 pounds, so we can cover any application or vocation in trucking today."
Maxion's Brest says there's another reason we may see more aluminum wheels in the future.
"The other big reason for reduced weight is the obvious push toward electrification in the industry now. Batteries are currently very heavy. So, in order to maintain payload capacity, OEMs are looking to reduce weight in other areas. Wheels have been able to reduce their weight every few years with advances in materials and processing."
Price remains an issue, too.
"Upfront costs can be an issue for aluminum wheels, and they can vary between each OEM," Alcoa's Gross says. "Oftentimes it is easy to prove an ROI based on productivity gains. For aluminum wheels, that includes a reduction in maintenance costs, increased resale value, and even driver retention."
Palladino cautions that COVID-19 economic factors have affected pricing.
"With the slow recovery of the economy since the height of the pandemic, raw material prices have been in extreme fluctuation," he says. "Steel wheel prices have nearly tripled since late 2020 and aluminum has seen a dramatic increase as well. It is important to keep these current cost increases in mind during the spec'ing process."
April 23, 2021 • by Jack Roberts.
Check the Trucks in our inventory!