TRUCK COLLISION CENTERS
Wallwork Truck Collision Centers are located in Fargo and Bismarck, North Dakota. Both are the premier commercial and heavy truck collision repair and painting facilities of their regions.
Whether it's a windshield, complete paint job or a major bodywork repair, Wallwork Truck Center's heavy truck body shop will have your truck looking like it just rolled off the lot, brand new.
Our painters are DuPont Certified and we repair all brands: Kenworth, Peterbilt, Volvo, Navistar, Freightliner, Mack - you name it!
Both heavy truck body shops boast the industry leading 50' TECOR 5000 down-draft paint booths and are known for their impeccable paint and collision repair.
Wallwork Truck Collision Centers can provide you with detailed computerized estimates and have great working relationships with all major insurance companies to make your insurance claim hassle free.
Wallwork Truck Collision Center-Bismarck
Hours: M-F 7:30am to 4:30pm
701-221-4680
1910 Hancock Drive, Bismarck, ND 58501
Wallwork Truck Collision Center-Fargo
Hours: M-F 8:00am to 5pm
701-476-7077
900 35th St N, Fargo, ND 58102
Wallwork Collision Repair Request Form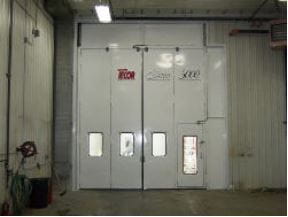 50' TECOR 5000 Down-Draft Paint Booth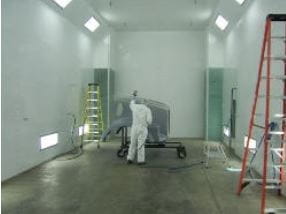 50' TECOR 5000 Down-Draft Paint Booth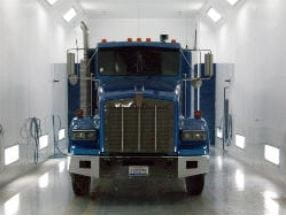 Kenworth T880 Fresh Paint