Wallwork Truck Center is where diesel is done.
GREAT PAY, GREAT BENEFITS, GREAT PEOPLE.
As a thriving, family-owned industry leader, Wallwork is dedicated to progress and growth. Progress achieved by utilizing the latest in diesel technology and growth achieved by continually investing in each and every employee.
With up-to-date training, a top-performers pay structure, full benefits package, and opportunities for advancement, Wallwork Truck Center is where careers reach the next level.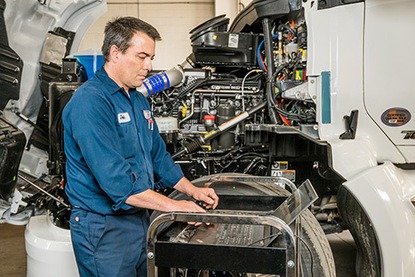 UNMATCHED GROWTH OPPORTUNITIES.
At Wallwork, we are focused on continual investment in each and every employee. Regardless of your position, our mission is to ensure each employee receives the best industry training and opportunities to grow within the company. Job security and growth is paramount.

PERFORMANCE-BASED PAY.
We believe you should be rewarded for your skill and efficiency. With our Top-Performers Pay Plan, receive performance-based pay on top of your base salary. Get paid what you're worth.

FULL BENEFITS.
Wallwork Inc. provides a competitive compensation and benefits package for all full-time employees. Take advantage of health insurance, dental insurance, vision insurance, HSA opportunity, life and long-term disability, 401(k) and profit sharing, and PTO. We make sure you and your family are taken care of.
If you are interested in a life long career in a thriving company, please apply today!
JOB DESCRIPTION.
Wallwork Truck Center is currently hiring for Diesel Mechanic to join our team. If you are interested in working for a successful company and great working environment, this is the place for you!.
The responsibilities for the Diesel Mechanic are performing truck repair and maintenance work as assigned in accordance with the dealership and factory standards; to adhere to company-wide safety standards, work well within a team, and maintain regular attendance.
This role requires an H.S. diploma or equivalent and Associates degree from a mechanical trade school and/or equivalent work experience; ability to pass a background check, drug screen and motor vehicle report required.
We offer competitive pay and benefits, employee discounts, paid time off (PTO), and great advancement opportunities! Wallwork Inc., is a successful and expanding business with many career opportunities and is excited to discuss the possibilities with you!
Wallwork Inc. and its subsidiary companies are a drug-free workplace and an equal opportunity employer.
Wallwork not only knows their employees are the reason for the company's past, current, and future success, they embrace it. They continually support their employees to do their best and be their best.
JOSH,
Wallwork Technician
Steps of Recruitment
Please fill out the application form.
One of our managers will call you as soon as your application is submitted.
Recruitment takes place in two stages. The first stage is filling out the form. The second stage is meeting with one of our managers.