Kenworth T680, T880 Get Dana Spicer D-Series Option
March 3, 2017 - 11:54:52 am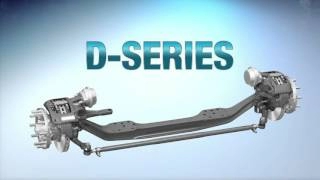 Kenworth is making Dana Spicer D-series lightweight steer axles for use with air disc brakes available on its T680 and T880 model trucks with gross axle weight ratings from 10,000 10 13,200 pounds. The D-series axle features a new lightweight beam with a robust axle-to-brake attachment to help maximize performance. A patented steer arm design further reduces weight, delivering excellent performance within a smaller design envelope.
The axles also feature a new integrated air disc brake knuckle. The knuckle's one-piece, forged design incorporates the tie-rod arm, disc brake mounting feature and spindle, and eliminates the need for a separate torque plate and its associated fasteners. The new axle weighs approximately 35 pounds less than the previous lightweight beam axle and torque plate assembly.
Check the Kenworth T680 and T880 in our inventory!